selectable color Electric Central Air Conditioning Scent air machine with 150ml oil bottle for house
Brief Instruction:
The scenting system is a must have designer diffuser, with a colorful design and a high quality finish, stylish and compact. It is ideal for homes, small offices or spas. The original minimalist square shape and sensual texture of smooth anodized aluminum makes the essential aromatherapy diffuser to compliment any interior.
The 316L stainless steel nebulizer is meticulously blown to ensure perfect diffusion every time. Each one is quality control tested to guarantee the highest quality diffusion of fragrances.
Product Technical specifications:
| | | | |
| --- | --- | --- | --- |
| Voltage: | 220V/50HZ | Power: | 15W |
| Noise: | <20dba | Coverage: | 600cbm/1000-2000square ft |
| Certification: | CE,ROHS | Technology: | Cold-air diffusion |
| Oil capacity: | 150ml | Max Oil consumption: | 1.5ml/h±5% |
| Color: | Black/Silver | Material: | Aluminum |
| Power source: | Electrical | Installation: | HVAC |
| Air Pump | Air Mac Taiwan Brand, 20,000 hours lifespan | Nozzle: | 316L Stainless steel. no blocking, no leakage, no need maintenance in 2 years, oil saving |
Product Features:
Aroma Diffusion System, Covers 1000CBM/2000-3,000Sqft
1. Aroma Diffusion System includes two parts: fragrance diffuser engine and installation accessories (air conditioner connecting pipe,plastic tube and location- plate).
2. Optionally connect to HVAC.
3. Pre-fixed work-time range.
4. Adjustable fragrance dispersing density setting.
5. Easy to install essential oil container which is inserted inside the machine.
6. with LED panel.
7. with Micro computer system.
8. Use super critical nanometer micro atomization technology,refined particle size, steady flow rate.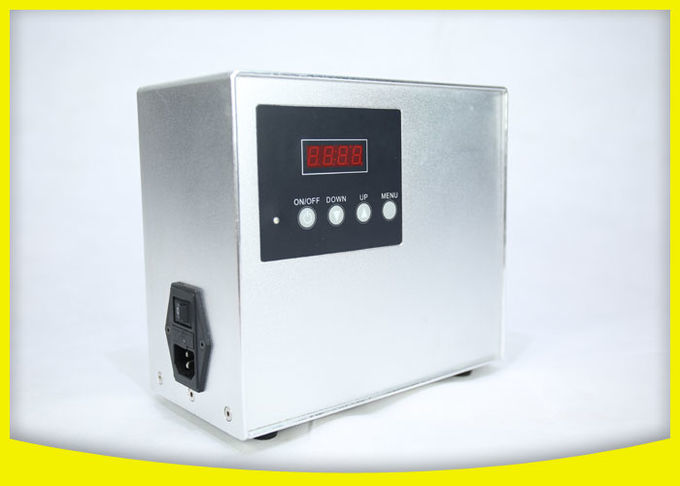 Key Functions:
Strong power and diffusion, working with HVAC ,fragrance spread evenly
Simple to operate, with timing program and memory function, do not need to repeatedly adjust.
Permanent electromagnetic periodic oscillation motion type pump, reducing the motor friction, so that it can decrease the working noise.
Intermittent work, energy saving and environmental protection.
Timing program, the diffuser will automatically stop working according your setting, save cost
Quiet and efficient working diffuser for hotel Lobby
>>>>how does it work?<<<<
Scent diffuser machine adopts cold two-fluid atomization technology, the high-speed collision of cold air hits aroma oil into nanoscale mist, the machine sprays the mist out of the atomizer, the scent flows along through the air.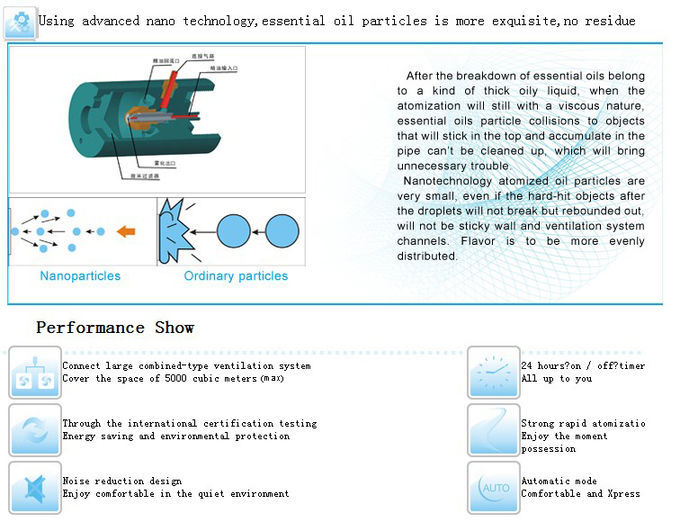 Applications:
Bars,Casino Places, Coffee Shops, Clothing shops,hotel room and ETC