High-end Hotel lobby strong power portable 220V black metal electric HVAC essential oil diffuser for Large Area
Brief Instruction:
MX-802 is designed for large size areas high class scenting market that require discrete diffusion,Ideally connected to your HVAC system it will also increase efficiency by up tp 50%(compared to diffusing straight into the air)
Featuring small or large fragrance bottles, this range is all about user-friendliness and flexibility.With our range you can scent any size space and the equipment is low maintanence and built to last.
Product Technical specifications:
| | | | |
| --- | --- | --- | --- |
| Voltage: | 220V/50HZ | Power: | 50W |
| Noise: | <32dba | Coverage: | 3000cbm/8000-10,000square ft |
| Certification: | CE,ROHS | Technology: | Cold-air diffusion |
| Oil capacity: | 500ml | Max Oil consumption: | 3.0 ml/h±5% |
| Color: | Black/Silver | Material: | Aluminum |
| Power source: | Electrical | Installation: | HVAC |
| Air Pump | Air Mac Twaiwan Brand, 20,000 hours lifespan | Nozzle: | 316L Stainless steel.no blocking, no leakage, no need maintenance in 2 years, oil saving |
Product Features:
Aroma Diffusion System, Covers 3000CBM/8000-10,000Sqft
1. Aroma Diffusion System includes two parts: fragrance diffuser engine and installation accessories (air conditioner connecting pipe,plastic tube and location- plate).
2. Optionally connect to HVAC.
3. weekday settable
4. Fragrance density adjustable
5. Easy to install essential oil container which is inserted inside the machine.
6. with LED panel.
7. with external nebulizer
8. Use super critical nanometer micro atomization technology,refined particle size, steady flow rate.
Key Functions:
Strong power and diffusion,working with HVAC,fragrance spead evenly
Simple to operate,with timing program and memory function,do not need to repeatedly adjust.
Permanent electromagnetic periodic oscillation motion type pump, reducing the motor friction, so that it can decrease the working noise.
Intermittnt work,energy saving and environmental protection.
Timing program,the diffuser will automatically stop wrking according your setting,save cost
Quiet and effient working diffuser for hotel Lobby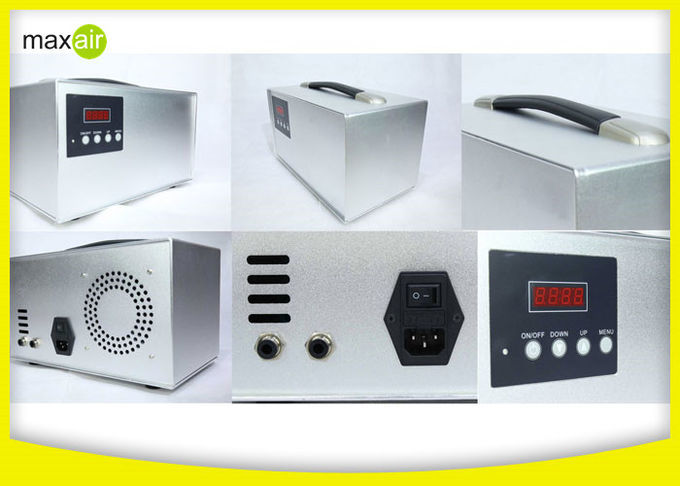 Packing details:
| | | | |
| --- | --- | --- | --- |
| Product size: | W330*D180*H180mm | Packing box | Neutral |
| Gross weight | 6.5 KGS | Net weight | 5.5KGS |
| Carton size: | 770*400*400mm | Qty/Ctn: | 3pcs |
| Gross Weight/CTN | 21.5KGS | Net weight/CTN: | 20.5KGS |
| Free Accessories: | Power Plug,Key,fuse, clear O-ring | 1.5 m Φ6mm special corrosion-resistant plastic hose | user manual |
>>>>how does it work?<<<<
Cold air diffusion is the latest technology in the scenting industry. It works by using high amounts of air pressure to compress oils into a dry mist of nano particles. This cold air diffusion technology is used in all MaxAir diffusing systems and ensures consistent and subtle scenting without high or low points in the scenting process.
HEAT IS THE ENEMY
Most diffusers work by heating the essential oils. Since essential oils are very delicate and volatile, their therapeutic benefits are destroyed when they are heated, as well as their ability to disperse well in large areas. The molecules fall as they come in contact with the cool air, shortening the life of the scent.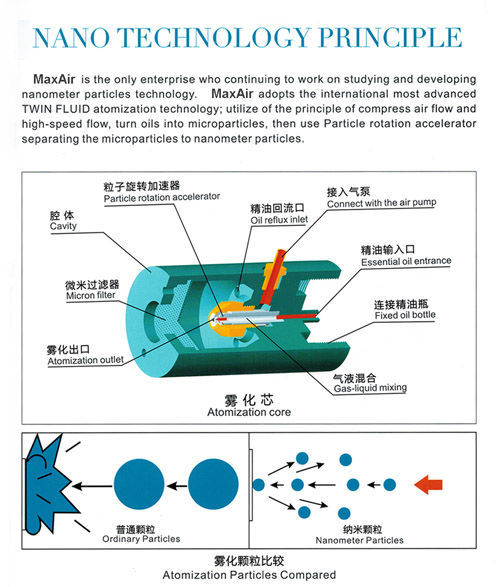 Applications:
KTV, Bar Hotel, Coffee Room, Jewelry store, Automobile 4S Store,clubs,
shopping malls, wedding photography Floor, leisure center, health care and otherplaces